You've probably heard the saying before, "Train the way you want to fight because you'll fight the way you trained."
This is wisdom that you can take to the bank.  When your stress level gets so high that your mid-brain takes over control from your frontal lobe, you lose most of your critical thinking ability.  You're left with the actions that you've actually practiced.  There are a few names for this…
Practicing until you reach unconscious competence
Doing skills that you can execute subconsciously…without consciously thinking through each step
Executing neural pathways that have been repeated enough for myelination to happen
Immediate action drills
Conditioned responses
Executing skills that you have in your procedural memory
Regardless of what you call it, you're only going to duplicate the actions that you've actually done and/or deliberately thought through and visualized in the past.  You're not going to be able to do things that you only read & talked about or only practiced a couple of times.
Thinking on your feet goes out the window and you end up fleeing, freezing, or repeating whatever "fighting" actions you've practiced the most.
You might be familiar with some of the more popular "training scar" stories, like the California Highway Patrolman who was in a gunfight with his revolver and was taking the time to "save" his empty brass and put them in his pocket during his reloads.  He died.  I'm not sure if the empty brass played a role, but I KNOW he could have spent his time doing something better than cleaning up his brass.
Or the story about the officer who confronted an armed robber in a convenience store, did a perfect disarm, and then handed the gun back to the robber, like he did in practice, to get another turn.
It even happened to a friend of mine during a home invasion.  The robber had a Beretta 92FS and my friend did a 1 handed disarm and even released the slide and removed it in the process like he had trained, practiced, and instructed for years.  The only problem was that, as soon as the disarm was done, both he and the robber went back and forth between looking at the gun parts and each other in complete confusion about what to do next.
Which gets me to "linear range training scars"
Essentially, they are the scars that you get when you spend the majority, or all of your training and practice time on a linear range…a range where you can only shoot "downrange", can't shoot the walls, and can't even point your muzzle towards the ceiling or over the berm.
There are literally dozens of examples of these training scars that shooters develop when they only train on linear ranges.
Some quick examples:
Shooting humanoid targets with a prescribed number of shots and/or looking for hits rather than shooting until you get the desired effect.  We talked about that >HERE< last week.
"Move with the muzzle of your gun pointed down."  This comes from the fact that most indoor ranges don't have bullet resistant ceilings, it's not safe to shoot over the berm at an outdoor range, and a lot of shoot houses have catwalks above them where the instructors walk and watch.

It makes perfect sense in these situations, but in a close-quarters, weapon retention and weapon strike situation, muzzle down isn't always the best solution.

It's not even always the safest solution.  What if you've got young "ankle biters", family/innocent people curled up on the ground, pets, or you're upstairs while the rest of your family is downstairs?  This is something you're going to have to struggle through on your own…I've chosen to practice muzzle-up because of the tactical advantages, but I have to switch to muzzle-down at many training and competition events because of range rules.

Not knowing how to safely transition between targets that are more than 45 degrees apart—Your transition between targets needs to be different, including your footwork and how you physically move your gun, depending on whether your attackers are close to each other, 90 degrees apart, or 180 degrees apart.
My pet peeve, the "silly scan".  The silly scan is when people engage a target in front of them and simply pay lip service to looking over their shoulders for other threats.  Their feet remain firmly planted, and if they never actually find additional threats, they're training themselves to go through the motions and don't "see" additional threats when they're actually there.  Just to be clear…360 degree checks and checking your "6" are good, but they become "silly scans" when you train your mind to simply go through the motion and not actually see something in the process.  You should look at specific things, like hands for ability and eyes for intent.  If possible, you should treat your environment like a 360 degree environment and move your feet while you're doing your scan.
"Never let your muzzle cross the 180."  This means that if you're facing your target and you hold your arms straight out to each side (180 degrees), you should never shoot if anyone is in front of that and you should never let your muzzle cross that 180 degree line.

This makes perfect sense for training new shooters.  Safety trumps everything else with firearms.  It makes sense on a range where only the downrange backstop is designed to take bullet impacts.  And, it makes perfect sense for shooters who don't have muzzle or trigger finger awareness (most shooters), but it doesn't make sense in a real-world, 360 degree environment.

In the real world, you might actually have to turn your body in a fight.  And while it looks kind of funny to see competitive shooters turned to the side and running with their pistol still pointed downrange, it's an incredibly ineffective habit to develop for a real life encounter.  I have adopted this on purpose for competition and it's very irritating to see myself doing it on video.

This is actually something I train kids as young 5-8 on.  I have kids spread out around a room and start randomly walking around.  Then I give a SIRT (inert training pistol) to one of the kids and have him walk around the room and back while following the 4 rules of firearms safety…one of which is to not point the muzzle at anything they don't want to destroy.  They have to maintain muzzle discipline and not point the SIRT at themselves or anyone else while moving in a 360 degree environment.

"When you've got a gun on your hip, a gun is the answer to a lethal force threat" One thing that fighting and free-form force-on-force training has taught me is that going for my gun is not the fastest way to stop an attacker within 10-20 feet (depending on how I'm carrying).  At those ranges, a strike to the throat/eyes/neck are almost always faster and stop the threat faster.
"A zone" or "Down zero" hits stop the threat.  Some threats are stopped the instant they see a gun.  Others when they see a muzzle flash.  Others with the first hit, regardless of where it is.  Other threats don't stop until they no longer have the ability to fight.  A-zone or "lethal" hits don't necessarily stop fights.  "Lethal" hits have a clock attached to them.  Someone with a nicked femoral artery away from advanced medical care has a lethal injury…but they may still be able to shoot, pull the pin on a grenade, or hit the button on a detonator for several seconds or a few minutes before being out of the fight.  Solid hits give you the highest probability of stopping a fight quickly, but it takes assessment to know whether perfect shot placement equals desired effect.
"Shooting while slow-walking straight back"  This is a skill drill in IDPA, and it's good in a crawl-walk-run progression, but when you call something a lethal force threat and then do the "IDPA shuffle" backwards, straight away from a humanoid target that represents an attacker, it's not a good idea.  When face to face with a threat, you should move aggressively and at an angle or close distance, but moving straight back puts you psychologically, physiologically, and physically at a disadvantage.  How do you fix this?  When you're working on fundamentals, use non-humanoid targets…bullseyes, dots, balls, boxes, etc.  When you're working on combat or self-defense skills, use humanoid targets and humanoid tactics.
And many, many, more.
Don't get me wrong, range training is valuable–vital, in fact.  But if you think you might ever need to use a pistol in self defense, you also need to practice techniques that will work in the real-360 degree-world after you've got your safe gun handling and fundamentals of marksmanship nailed.
Many people will want to figure out the best techniques and drills to do on their own, but if you're interested in plugging into ultra high-speed, low-drag, accelerated firearms learning techniques developed by a retired Navy SEAL from Team 3, I want to strongly suggest that you check out www.ConcealedCarryMastersCourse.com.  It's firearms training, and results, unlike anything you've ever seen before.
What have others who have gone through the course said?
"This has improved my shooting and techniques dramatically. Just when you thought you knew what your doing a great video compilation comes along and makes it better"
"Since beginning working on fundamentals and dry fire drills, my accuracy at the range has markedly improved."
"My performance has become markedly better and continues to improve."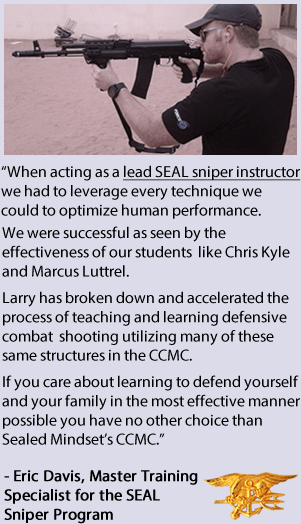 When you go there, make sure you read about the 4 officers who are alive, in part, due to the training as well as the 3 big reasons why their training methods are so much more effective than traditional firearms training.  Check out CCMC now by clicking >HERE<
If you've got any "linear range training scars", other "training scars" or training techniques that you've used to overcome them, please share them by commenting below…