IF YOU ARE A
RESPONSIBLY ARMED GUN OWNER,
I WANT TO SEND YOU A
FREE PATCH AND
SUPER-STEALTH TACTICAL PEN!
In John Wick: Chapter 2  there is an infamous scene where John uses pencils to take out 2 assassins trying to kill him with guns.  It's WAY too much gore to share here, but let's just say that he is more effective with pencils than they are with their pistols.
Yes, it's fiction.  Yes, it's sensationalized.  But it does create a very real imprint of how effective of a weapon a pen or pencil can be.
So, when I saw these morale patches on closeout, I bought ALL of them...and I want to send you one, for FREE!
If you're a John Wick fan like I am, you're going to want to jump on this.
But it gets better, because I want to send you a Super-Stealth Tactical pen too...
Stops Threats Faster Than A Pistol???
As I've said repeatedly, at bad-breath distances, using whatever's in your hands as a defensive weapon is at least 2x faster than trying to draw a gun and get it into the fight.
The trick is, you want to have something in your hands that is not a weapon, doesn't look like a weapon, doesn't look scary or intimidating, but that can flip the switch and be used as a weapon in an instant.
Kind of like the innocent looking golden retriever or lab who's happy-go-lucky until someone threatens his human family.
That's why I also want to send you one of our Super-Stealth Tactical Pens...that's not *really* a tactical pen at all ;)
You see, tactical pens have glass breaker tips, DNA collector caps, aggressive texturing on the sides, cool/intimidating logos and words, heavy, thick barrels, and they basically scream, "WEAPON!"
I LOVE tactical pens, but what I found over the years is that almost everyone notices that they're a tactical pen...from the bank teller to the librarian to security at the airport, courthouses, and other places with metal detectors.
What I wanted was the perfect "grey man" tactical pen that didn't look tactical at all, but that could serve as a super-effective defensive tool when called upon.
And, if John Wick can make a pencil work in the movies, I think you and I can make an aircraft grade aluminum Super-Stealth Tactical pen work in real life...
You Actually Hit Stuff With This To Test It?
I have this crazy idea in my head that I should probably actually test tools and techniques before trusting my life to them and recommending them.
I don't just test pens on meat and other analogs, but also meat with bones, skin or skin analogs, and clothing on top that to resist and redirect strikes.  (There are benefits to being a hunter and having your own butcher shop that friends & neighbors use)
As anyone who's done this will tell you, you learn a lot (very quickly) about what does and doesn't work...and I've paid for some of these lessons with my own blood.
I've had pens break & shatter.
I've done a number on my thumb when the sharp, spiky back end of a tactical pen dug into it when I hit stuff.
I've cut the inside of my hand when I hit bone with a tactical pen and my grip slid down the pen because my thumb wasn't on the back (because of the sharp, spiky back end).
I've had my sons do testing with me just to make sure it wasn't my 200lbs that were making the strikes effective and that the pen would be effective for everyone.
And the Super-Stealth Tactical Pen has worked incredibly well.
The flat, widened back end allows for perfect thumb placement and for the force of your entire strike to be transferred through the tip.
But it looks like "just a pen" so nobody will be freaked out by it.
It's comfortable to carry, it won't wear holes in your clothes, and it writes like a dream!
You've got a couple of options.
The first option is that you can get just the pen for $30 >HERE<
But, if you do that, you won't get the patch.
And the patch is super-cool.
If you want both the pen and the patch and you want them for free, I'm going to send them out to the next 100 people who take my Upgraded Shooter training program for a 30-day test drive.
What's Upgraded Shooter?
It's an At-Home self-defense gun training system that goes WAY beyond just shooting.
More than $1,100 of Elite At-Home Training if purchased separately, you'll get it all for less than the cost of a single trip to the range per month!
Better Speed &
Accuracy Under Stress

In Less Time

And Less Expense
That's why so many members of top military and law enforcement units use my training.  You see, they're ALWAYS looking for ways to be more efficient with their training time and dollars.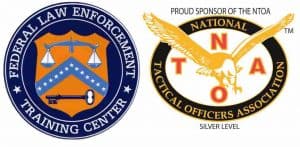 My goal for you is the same as it is for them--better high stress performance in less time for less money using cutting edge neurology, brain based training, and accelerated learning techniques that anyone with a 6th grade education can understand and use.
Anything less is just going to make it take longer and cost more for you to improve as a shooter.
And who can afford that?
But in this age of information overload, it's incredibly difficult to sort through all of the training information and separate what actually works from what's just popular and entertaining.  People who watch a ton of free videos just end up wasting excessive amounts of time and building virtually no skill.
People collect tips and tricks and drills when what you really need is a cutting edge system that delivers the most skill possible for your dollar and your time.
In Upgraded Shooter, we combine the best-in-class at-home video-based follow-along firearms training along with cutting edge updates that you can use at the home or the range.
 You'll get the drills and tools that you need
to shortcut the learning process.
As part of Upgraded Shooter, you'll get access to several of my cutting edge video-based training you can do in the comfort of your own home--but also *special* material that's being used by top military and law enforcement trainers, but hasn't made it into ANY online or DVD training yet...in other words, it's way more effective than anything you've seen before.
What happens a lot of times is that I will take lessons that I've created for private training clients or agencies I'm consulting and make a version that only Upgraded Shooter members have access to.
We'll use scientifically validated methods to slash the amount of time and rounds fired to be able to perform at a high level in situations when your life or the life of a loved one depends on it.
Situations where most people freeze and their performance tanks.
And that's exactly what the Upgraded Shooter Community will help you do
Using cutting edge neurology and accelerated learning...
"Upgraded Shooter Will Help You
Squeeze the most self-defense shooting performance
out of the limited time you've got to train."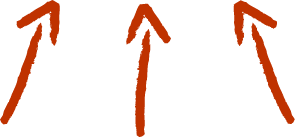 We're able to do that because we use a completely different (and more effective & efficient) approach than the traditional firearms training model.
You see, a lot of things happen in a gunfight before your gun handling skills matter—things that are ignored by most traditional firearms training.
And there are several things you can practice without a gun in your hand that will make you a MUCH better shooter in a life & death situation.
The primary focus of Upgraded Shooter is shooting, but we'll go beyond the gun and cover higher leverage skills, like:
Stress modulation training to help you stay calmer and perform at a MUCH higher level in surprise life and death situations, as well as respond more effectively to day-to-day stresses.
Vision training:  Vision training is one of the easiest and highest leverage things you can do to improve as a shooter, but its also one of the most ignored.
As part of Upgraded Shooter, you'll get access to the See Quicker Shoot Quicker Tactical Vision Training course.  It is the only vision training course available that is geared specifically towards tactical and self-defense applications.
If you have limited time to train, VISION is the one skill that you should work on before all others because of how dramatically it will affect every area of your life.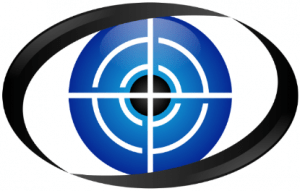 You'll go way beyond which line you can see on a silly chart.  Vision training is one of the key skills that helped Alabama win the 2018 NCAA Football Championship and Yuzuru Hanyu win a gold medal at the 2018 Winter Olympics.
It's the type of training that shooting legends like Jerry Miculek and Max Michel have used as an "unfair" advantage to extend their careers longer than many thought possible.
You'll learn how to increase peripheral awareness and observation/situational awareness skills, as well as improve how quickly and clearly you can see your sights.
Functional Fighting Movement  Speed is key in a fight for your life, but
it's a commonly believed myth that you need to MOVE quicker to BE quicker.  << FALSE!
The easiest way to move quicker and shoot quicker is to eliminate wasted movement and move smoother and more efficiently.
You'll learn to move smoother and quicker in dynamic self-defense situations, no matter how many bolts, screws, and plates you have holding yourself together or what your current capabilities are.
Simple tactics & tools to help you fight to your gun.  The reality of a self-defense gun incident is that you'll probably have to fight to your gun.  This isn't a time for traditional self defense techniques like punching that can quickly make your hand incapable of using your firearm, phone, or keys.
In the Fight To Your Gun training, you'll learn how to stop threats as quickly as possible with your empty hands, what's in your hands, or improvised weapons.
In short, what you're looking at is
The Holy Grail
Of Firearms Training
Upgraded Shooter includes more than half-a-dozen of my training courses...more than $1,100 worth, as well as more advanced training modules all for one incredibly affordable price.
As part of the Upgraded Shooter community, you'll receive:
Access to more than $1,100 of my best video training, available 24 hours a day, 7 days a week.
Access to cutting edge targets, training tools, and drills to help you improve as a shooter as quickly and efficiently as is humanly possible. Some of these tools, that I've been using for years, are just now making their way into widespread use by elite tactical units.
Immediate on-demand access to firearms training lessons from our top selling paid training courses. That includes tactical vision training, firearms training, survival skills, and our soon-to-be-released courses. (Available content rotates every 2 weeks to keep things fresh) Value: $419
On-demand access to firearms training lessons from other top training courses (this isn't free content…these courses cost $100, $150, $200, or more) that includes a constantly changing mix of pistol training, situational awareness, carbine training, defensive flashlight, home defense, empty hands combatives, and more. (Content changes each month)
A $100 discount on private video coaching packages.
Access to the Journal of Tactics and Preparedness…our monthly journal that includes instruction from myself, and some of the most respected instructors and tactical consultants in the country--Instructors from places like Gunsite, Vata Group, T1G, Tracker School, OnPoint Tactical, Magpul, and others who are DOD or OGA instructors, consultants, and operators.
The journal covers firearms training, primitive & urban survival, brain & bio hacking, identifying and defending against social and psychological manipulation, vehicle combatives, empty hands fighting, improvised weapons, cyber/economic/unconventional warfare, and more high leverage topics that you just won't find anywhere else. People pay up to $27 per month for the Journal on it's own…and LOVE it.
Discounts on live training events
Big discounts on gear from industry partners that could easily pay for your membership!
And more that I can't reveal just yet…
When you add it up, it's more than $1,100 in value
So, how much is it for all of this value?  For the $1,100 of training courses, the patch, the Super Stealth Tactical Pen, the Journal, and everything else???
The good news is that you can get access to all of the training and the patch & Super-Stealth Tactical pen as my free gift when you give Upgraded Shooter a risk-free test drive for the next 30 days for only $27.
You're under no obligation to continue after the 30 days.
If you want to continue, you don't need to do anything.  But if you decide that unlimited 24/7 access to the best shooting, self-defense and situational awareness training available for only $27 per month isn't your thing, just email in and let us know you want to cancel.
The patch & Super-Stealth Tactical Pen are yours to keep regardless as a thank you for giving Upgraded Shooter a fair shake.
But let me sweeten the deal even more...
When you sign up right now, you'll also get one of my patented multi-caliber Dry Fire Cord kits!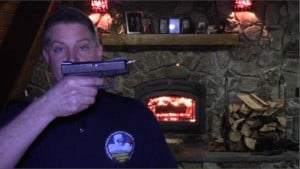 Yes, my finger's on the trigger in the picture above.  I'm demonstrating how to get a resetting trigger on a Glock in under a minute without removing the slide.
Dry Fire Cord makes dry fire practice with a firearm safer (nothing is "safe" with a gun...by design) by giving you a reflective visual indicator that the chamber is plugged and will cause the trigger on a Glock and other semi-autos to reset after each press without having to rack the slide!  One of the big advantages of Dry Fire Cord is that you don't need to remove the slide to block the chamber.
Last, but not least, when you sign up today, I'll send you out one of our limited edition Upgraded Shooter Challenge Coins!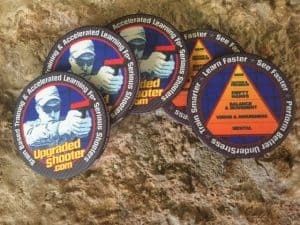 .
These challenge coins are not sold and can't be bought.  They can only be earned by becoming an Upgraded Shooter.
Members of Upgraded Shooter make up my most valued group of customers.  Many of my best ideas for courses, articles, and videos come from this family.  If you enjoy and appreciate the content that I put out, I want to encourage you to support what we're doing by becoming an Upgraded Shooter today.
To recap...
I understand that when I click the button >HERE< I'll be sent the John Wick velcro patch, a Super-Stealth Tactical Pen, 9mm, .40, and .45 Dry Fire Cords , AND a can't-be-bought Upgraded Shooter Challenge Coin!
I'll also get immediate access to more than $1,100 of video based pistol, carbine, situational awareness, empty-hands defense, and vision training courses, access to the Journal of Tactics and Preparedness, and the entire catalog of over 100 issues of the Journal.
In addition, you'll get immediate access to 3 recent presentations I did on...
Helping Women Shoot - for a group of 100 Warrior Women from our church who ranged from gun-curious to serious shooters.  This is a must-watch for any woman shooter.
Shooting With Low Grip Strength - for shooters who have low grip strength from age, arthritis, injuries, or illness.
Enjoying Shooting When Loud Noises Hurt - Did you know that humans are only born with 2 fears and shooting triggers both of them?  When people get this wrong, shooting sucks...but when you get it right, shooting can quickly transform from being something that's endured to something that's enjoyed.
I understand that this is a risk-free, satisfaction guaranteed, 30-day trial and that I can cancel at any time.
And, I want to get started now by clicking >HERE<

There's absolutely nothing to lose and everything to gain by taking advantage of this offer.  Remember, I'm in this for the long haul and if you're not happy for any reason, you can cancel at any time.
-Ox
P.S.  Remember, when the bonuses are gone, they're gone, so to make sure you don't miss out, take action now.
Copyright UrbSurv LLC 2023